For football fans is created Fan Fest Zone. Our Fan Zone is open for everyone till 15th July everyday with match. It's located at Karowa street at the sports Hall "Helena".
Places in Elbląg that are worth seeing:
A walk throught the Old Town is a must for every visit to Elbląg. The historic center of the city can surprise you, as the Old Town is actually… young. Apart from the few surviving historic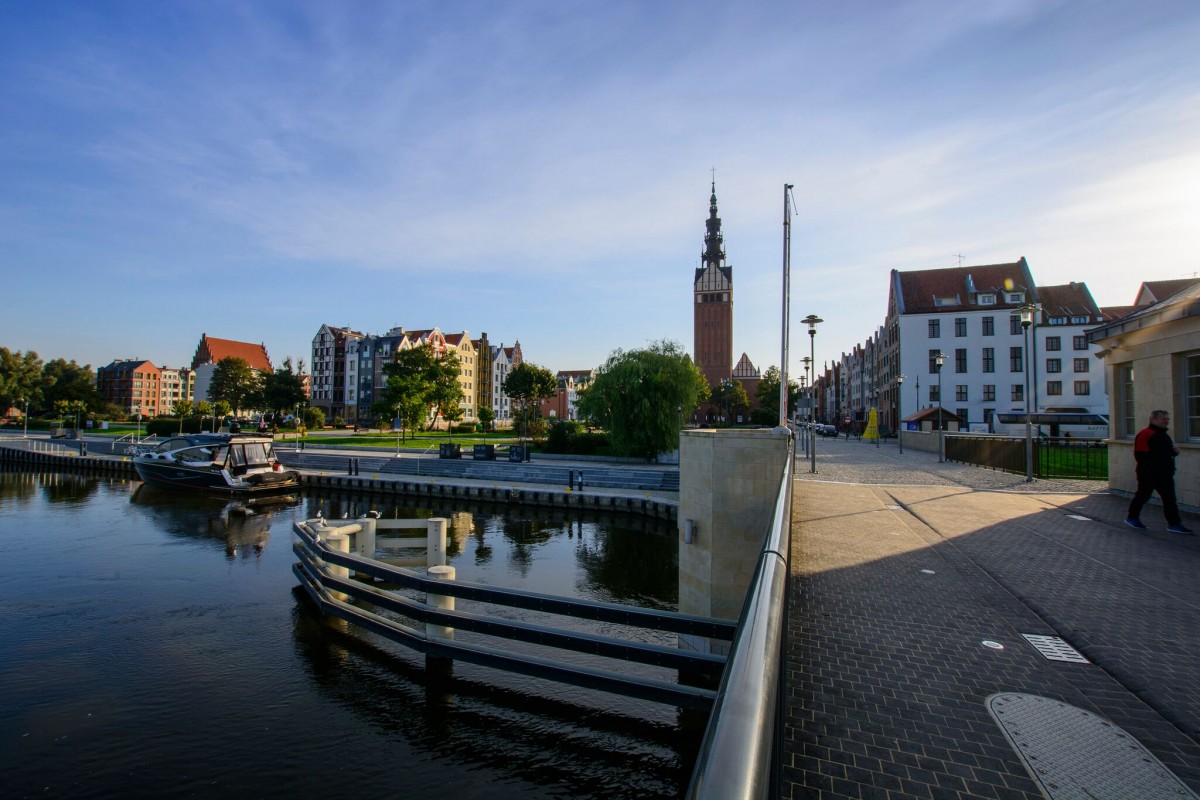 monuments, the majority of the townhouses there are the result of the rebuilding effort that only started in the 1980s. Retroversion became the motto for rebuilding the Elbląg old town.
Many of the Old Town pubs and restaurants has menus in four languages and offers supposedly traditional food in supposedly traditional buildings (mains 20-40 zł).
The St. Nicholas Cathedral in the Old Town is the most important sacral structure in the city, and also the highest Polish church tower on the eastern bank of Vistula. Tower (and it's 366 stairs) is open for tourists from mid April till mid October (Tuesday - Friday 10:00-17:00, Saturday 10:00-14:00, Sunday 14:00-17:00).
Directly at the Cathedral the Church Path is located – this picturesque pass between the townhouses is a unique architectonic monument that is unique in Poland. In the Medieval Ages this tract was longer and connected all churches of Old Town (hence its name). Only the fragment connecting Mostowa street and Św. Ducha street was preserved to date.
Bażantarnia Forest. The montane features of this area, slopes covered by beech and hornbeam forest, hills, streams, mysterious ravines – all that makes the Bażantarnia the favorite resting place for inhabitants of Elbląg. The trails encourage hikes. Choosing the walk along the valley of the Srebrny [Silver] Creek we encounter the Devil's Stone in its bed – that according to the local legend was dropped by Satan himself. Trained eye will see an impression of devil's hand on the stone. The red Copernican trail runs through Bażantarnia and further down through the city, connecting the places that are linked to the famous astronomer.
The 82 km long Elblag Canal, due to hydro-technical devices operating there since 1860, is unique in the scale of the whole world. The level difference of the canal is over 100 m, and this is travelled by the ship with use of locks and ramps (where a cart moves the ship over land on rails, driven by the force of flowing water).
Tourist Information Offices in Elbląg
Contact
tel. 55 239 33 77
e-mail: ielblag@umelblag.pl
www.turystyka.elblag.eu
Facebook: Elbląg w Formie
Instagram: elblagwformie

Opening hours
low season (01.10.- 30.04.)
Monday- Friday
8:30 - 16:30
Ratusz Staromiejski
Stary Rynek Street 25
82-300 Elbląg
GPS: N 54° 9' 31.035'' E 19° 23' 46.474''
high season (01.05.- 30.09.)
every day
10:00 - 18:00
Ratusz Staromiejski
Stary Rynek Street 25
82-300 Elbląg
GPS: N 54° 9' 31.035'' E 19° 23' 46.474''

Market Gate
Stary Rynek Street
82-300 Elbląg
GPS: N 54° 9' 39.629'' E 19° 23' 44.25''